Welcome to
Faith Farm &
Hop of Faith Rabbitry
ARBA Rabbity #U476
on the web.
Our Mission-
1. To invite teen girls in need to come to our farm and work with the animals. These girls will be shown unconditional love by our animals and the love of the Lord from us.
2. To be a forever home for some of our rescued animals that we chose to keep.
We also raise Dutch rabbits, Californian rabbits. We show at some ARBA shows, 4-H shows and the local fair.
Shop through our website with one of these fine stores below and some of the money will go to help with Faith Farm's mission thank you. (If you shop through our website the stores give a small percentage of the money to us, it cost you nothing.)
OUR STORES
We now have two small stores. At one we will be selling T-Shirts, Mugs ect...The pictures will be of our animals. The money we make will be used for Faith farm's mission. Check it out, click on Duck and Bunny Button below. Thanks (we will be adding more items as time permits) The other store is a book store Faith Farm and Hop of Faith book store. Click on the little gray lop rabbit button below and check out some great books about animal care.
Click here to go to our Cafe Press Store
Shirts, Cups and other products with our animal pictures on them
Faith's Farm
Runner Ducks and Saxony Ducks.
Seabrite Bantam Chickens, Cochin Chickens Frizzle Cochins Chickens, Bearded D' Uccles Bantams, Barred Rocks Chickens.
We raise Miniature horses and Alpine Goats.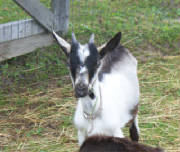 Breeders of Dutch and Californian Rabbits(Amber)
Breeders of Runner Ducks(Amber), Saxony Ducks(Cindy)
Silver and Golden Seabrite bantam Chickens(Amber), Bantam Cochin Chickens(Amber) Bearded d'Uccle Bantams(Cindy) Barred Rocks(Cindy)
Miniature Horses(Cindy), Alpine Goats(Cindy)

Pedigreed high quality rabbits & purebred chicken and ducks.
Purebred Miniature horses and purebred Alpine goats
Alpine and Sannan mix goats.
Loved and cared for like part of the family.
Take a look at our pages of Pictures.
Dont miss our forsale page.
I use Callwave and I love it.
Post your want or forsale ads on my classified page.